Despite the USD's weakening since October of last year, the AUD/USD pair has remained bearish on the longer term charts since the beginning of 2022, as the daily chart above demonstrates. It has made new lows while encountering opposition at its 200 simple moving average (purple).
But now that the Federal Reserve is done raising rates, and the Reserve Bank of Australia (RBA) has resumed rate hikes after pausing them at their previous meeting, some investors are anticipating a bullish reversal in this pair, especially in light of the fact that other major pairs have also turned bullish against the USD. The Reserve Bank of Australia (RBA) resumed tightening monetary policy this month after taking a break the previous month, sending the Australian dollar soaring by more than 67 cents. With this rise, the cash rate is now at 3.85%, a +0.25% jump.
The RBA stated in their monetary policy statement that they were considering tightening policy even further in light of the tight labour market and wage growth in order to bring inflation back to target within a reasonable period. A 25-basis-point increase in interest rates later this year was price in by the markets at a 50-50 possibility prior to the meeting. Nonetheless, the market is recalibrating and processing the statement's tone, causing a more pronounced response in AUD/USD now that the rate rise has been implemented.
The most current inflation numbers were revealed last week, and they have caused some alarm. They show headline CPI at 7.0%, which is slightly above the projection of 6.9% year-on-year to the end of March, but below the prior figure of 7.8%.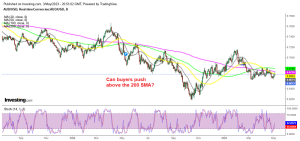 After the RBA unexpectedly raised interest rates, the AUD/USD recouped at the support level in the 0.6560s, as shown on the daily chart. However, price fluctuations persist owing to lingering concerns over central banks' tightening cycles and contradictory economic data. Since the AUD is so sensitive to changes in risk perception, the regional banking issues in the US have also boosted market volatility, which has a major effect on the AUD. As a result, investors should plan for shifts in consumer confidence.
However, following the RBA's picke up at the most recent meeting, it is anticipate that the RBA would continue hiking rates. A majority of 13 of the 25 economists polled believe the RBA will raise rates by another 25 basis points by the end of September 2022, bringing the cash rate to 4.10 percent.
While 6 of these economists predict a decrease in the cash rate, the remaining 12 economists expect the RBA to keep the cash rate where it is now, at 3.85%. 25 out of 29 economists surveyed do not anticipate a rate rise at the forthcoming RBA decision in June.
---